INMEX China is the largest and most established international maritime event in the pearl river delta region. After 9 successful editions, the biennial maritime exhibition is recognised as the key platform for local and international maritime professionals to learn about the latest products and technologies in the industry, network with other industry professionals and explore business collaborations.

The Chinese government will be putting in more efforts into the national maritime industry, including fostering world-class high-end marine industrial clusters into earl river delta region, improving maritime research through sending up three maritime satellites into space, and promoting maritime legislation. All these represent the enormous potential and huge opportunities in the China maritime industry.

INMEX China 2022 is your bridge to the China maritime market – where you can visit the local shipyards to view their facilities, meet and network with local shipyard owners and learn about the latest developments in the industry.
Informa Markets creates platforms for industries and specialist markets to trade, innovate and grow. Our portfolio is comprised of more than 550 international B2B events and brands in markets including Healthcare & Pharmaceuticals, Infrastructure, Construction & Real Estate, Fashion & Apparel, Hospitality, Food & Beverage, and Health & Nutrition, among others. We provide customers and partners around the globe with opportunities to engage, experience and do business through face-to-face exhibitions, specialist digital content and actionable data solutions. As the world's leading exhibitions organiser, we bring a diverse range of specialist markets to life, unlocking opportunities and helping them to thrive 365 days of the year. For more information, please visit www.informamarkets.com.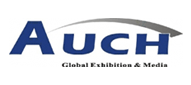 AUCH Exhibitions Services CO., Ltd
who organizes international exhibitions at home and abroad, trade conferences, conferences for academic exchange, seminars, etc. Since its establishment in 2002,AUCH has already successfully hosted many reputable exhibitions in the spirit of Good Faith, Best Service, Professional Exhibitions in the fields of maritime, paper, printing, publication, electrics and machinery.
Over the years, AUCH has established and maintained close relations with the Chinese government, professional associations, media and exhibitions services institutions. Meanwhile, the exhibition offices of Guangdong Paper Association and Guangdong Society of Naval Architects and Marine Engineers have been set up in AUCH. Their tremendous support has promoted AUCH to go forward continuously. AUCH believes in continually improving its influence over the exhibitions industry in China and Southeast Asia. It strives to provide its exhibitors with up-to-date information and efficient, professionally-run events.